How a Made in Microsite Can Be the Cornerstone to Your Digital Strategy
Blogs
A Digital Membership with Made is the most efficient way to raise your profile online, share your news and nurture your reputation within the manufacturing community. Your Made in Microsite is an individual web page that exists outside of your company's homepage and acts as an entirely discrete entity.
With a personalised Made in Microsite, you can capture visitors from the Made in the Midlands homepage, utilise the search directory to contact relevant companies, capitalise on the vast array of external links to your unique digital space and much more.
Uploading regular and unique content will ensure you engender the maximum benefits from your digital content. Alongside this, members having the primary domain of ".madeinthemidlands" attached to their microsite means that they are inherently set up to communicate a unique purpose.
In terms of SEO, a microsite will give you an opportunity to roll out a multi-domain strategy - meaning you will have an added domain to rank for certain keywords and be found by potential clients on Google. Alongside this, it will also give you the opportunity to add backlinks to your main website.
This website can either be used as part of your current digital strategy - by promoting a specific aspect of the business or marketing campaign (e.g. launching a new product) - or it can be used to entirely replace your current website overheads.
Your Listing in The Midlands'
#1
Manufacturing Directory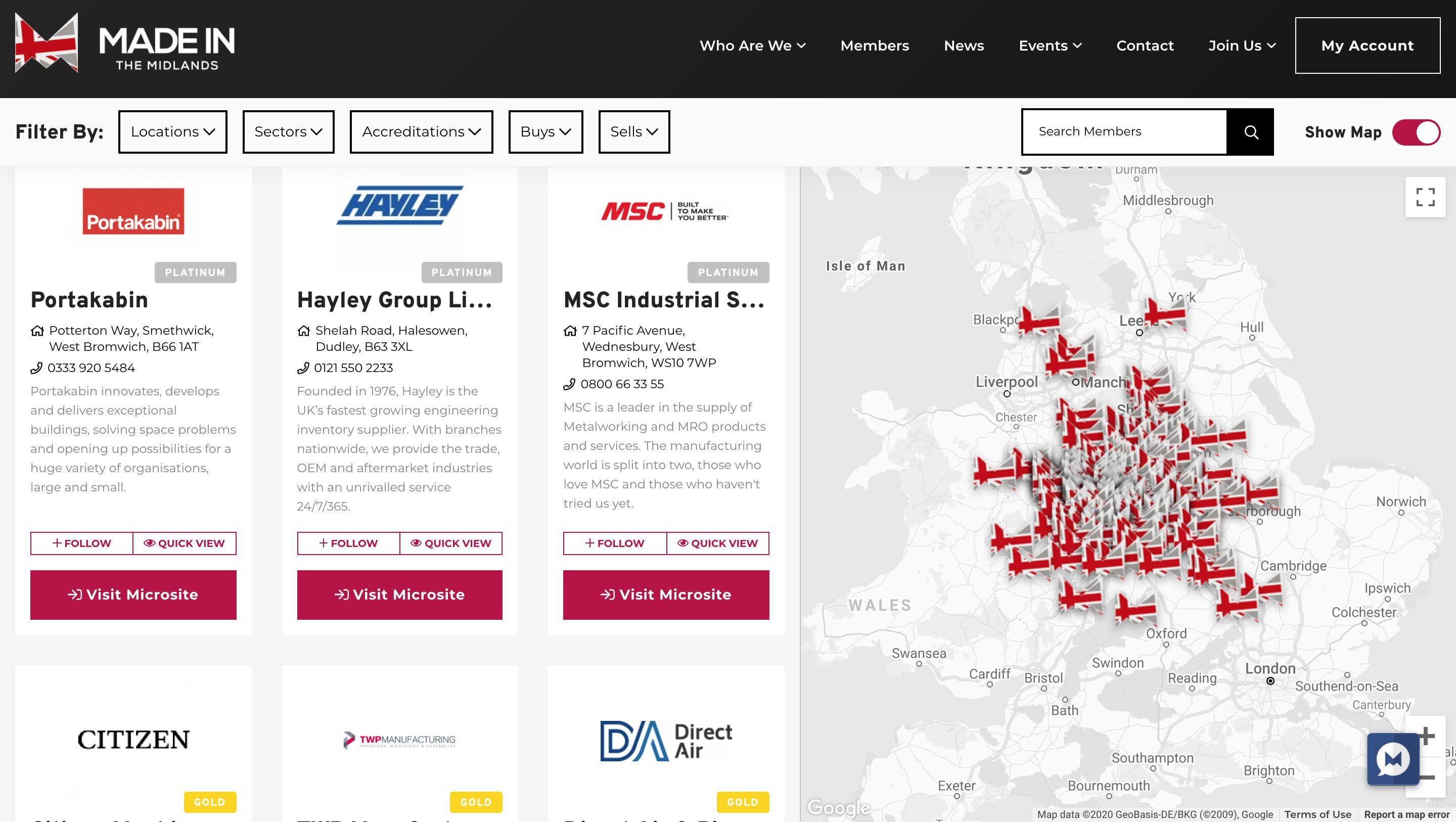 The Made in the Midlands website, which ranks no.1 for "midlands manufacturing" on Google, boasts approximately 20,000 visitors a month. Likewise, Made in Yorkshire also comes up first on Google for "yorkshire manufacturing". From here, potential clients, customers and business associates can find your microsite easily on the Directory Listing.
One of the major aspects that makes the microsite so powerful in terms of visibility is the fact that you have a listing in our directories, including the Made site and also www.madeinlondon.com (containing our public affairs communications), to ensure you reach the maximum number of industry professionals throughout the country. Amongst hundreds of other members, you will feature on our interactive Britain to the World Map, so that potential customers and work associates will be able to pinpoint your exact location for seamless business contact.
Live Chat: Round the Clock Communication with Potential Customers
With offices being closed and remote working having become a daily reality for so many of us, it is easy to fall for the illusion that business has stopped altogether. Potential customers who are browsing your services online may have also presumed that you are not operating at all, without some sort of indication otherwise.
However, regardless of whether it is for the immediate future or they are using their enforced downtime to research for future investment, customers are still interested in what services and products you offer.
Members can now connect with microsite visitors in real-time and have more conversations, with Live Chat integration. You can chat with visitors from your user dashboard and visitors to your microsite will see a chat icon in the bottom right-hand cover of your site - so they know you're still open for business!
Unlimited News Uploads to a High Traffic Medium
With up to 20,000 visitors a month heading to the Made platform, your personalised microsite gives you a genuine platform to champion your company's success stories amongst thousands of other industry professionals. Instead of spending over the odds to try and convert organic traffic to your company website - uploading content to the Made site offers you a genuine high traffic site to promote your company news and success.
Alongside this, success stories which are posted by members to the site may be added to our weekly newsletter and shared with over 20,000 followers on social media. The Made in the Midlands digital team are on hand to help you with every stage of the process, from coming up with ideas to producing the articles and getting them SEO-ready to maximising exposure.
A Digital Membership with Made is the most efficient way to raise your profile online, share your news and nurture your reputation within the manufacturing community. Get in touch to streamline your digital operations today.